Words From Our Clients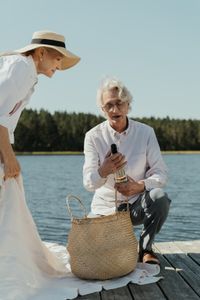 Very helpful ! Easy to talk to. Helps you with getting best deal for a good price.
I want to thank you so much for helping me out 7 years ago when I needed a supplement insurance. I was so confused didn't know where to go or what to do. You helped me get a great insurance at a great rate! It pays for everything and low rates. I am impressed with the fact after all these years you reached out to me to see if I needed a change. We went over my insurance and told me it was still okay for me. I really don't know what I would have done if it were not for you. Thank you again for all your knowledge and help. I recommend you to all my friends and family, heck even people I don't know.....
Thanks so much Bill for all ur help! You have guided me twice in offering wonderful Insurance! Your knowledge & expertise has made a very happy Lady!
Thanks so much for helping me navigate through all of my Medicare and insurance woes. I was so impressed with your knowledge and your ability to help me make the best decisions for me. I plan to recommend you to everyone I know!
Bill is so helpful in getting the coverage that is right for you and he will get you the very best price. I feel he has my best interest at heart.
Bill has helped me with my Medicare insurance supplement since i have been on Medicare. He is easy to reach by phone and totally explains every thing in detail. He always helps me find the best plan and of coarse the best price on my policy. Believe me, you should shop your insurance with Bill Adkins. He really takes good care of me and ALWAYS has the best price on any type Medical insurance you may need. He is very trust worthy .
Bill has been my insurance broker for seven years, and it is no exaggeration to state that he is the best. He always looks out for my interests, finding the best plans for the best price, and I have recommended him to many of my friends, all of whom have nothing but good to say about doing business with him. I'd give him ten stars if that were an option.
Bill Adikins was a life-saver for us. He was able to assemble an insurance solution for my in a day and it was very cost-effective and comprehensive. His knowledge of the industry was very impressive. I would recommend him to anyone for the supplemental Medicare insurance needs..
Very helpful in finding me a cheaper medical policy. 5 stars
I have worked with Bill for several years on supplement insurance. He is always helpful, responsive, and professional.
Bill found us insurance that fit our needs while saving us money. We have been dealing with Bill for several years and will continue to cal on him as needed. Thank you Bill.
Talked to Bill Adkins yesterday about a medicare supplement, everything handled timely and professionally. I feel he has my best interest at heart. My sister recommended him and I am very pleased with everything we accomplished. Thank you again Bill.
Bill is very helpful and very responsive regarding our Medicare insurance needs. I highly recommend him.
Just turning the big 65 soon with Medicare looming, and Bill made it very easy for me to find my way out of the jungle.....I can't begin to say how grateful I was for his knowledge, guidance and professionalism. He made it easy. Your the best, Bill!
Bill is trying to help us lower our insurance cost on our medical policy!!
Bill Adkins, a benefits specialist, is just that. He was great to talk with and helped us find the right insurance for us. If anyone needs to update their insurance or just check it out to see if what they pay is compatible, you should speak with Bill.
When my insurance gets too high the first call I make is to Bill. He has always been able to find me a better rate.
Bill saved me almost $80 a month when he transitioned my supplemental insurance to a new company. His experience and knowledge of the insurance companies made it a very easy switch. Thanks Bill!
Get It Done
With Us Today
You too can get a free review of your current insurance situation. Our job isn't to sell you anything. We explain what you have compared to what else is available. We will educate you enough to make your own decisions, and, if a better option is available, help you with the paperwork. All with no risk.
Get A Quote Now